Anderson Profile: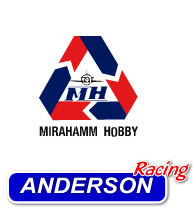 Welcome to Andersonmodel.com Website!
Anderson Model co. Ltd. has served the requirements of
RC hobby products since 1982, We specialized in man-
ufacturing a Wide range of RC products including custom
and our own designs , Starting from a wide selection of
Accessories for RC airplane, helicopter, cars and boats,
consist from the Common RC accessories to optional u-
nique designs, Each of them presents a good image of
high quality and good performance.In 2001, accumulated
by 20 years technologies and experiences, we decided
to promote our line more into the complete models products into RC carsAnd RC boats series. And Immediately, within a period of times, these new series achieved again a very good name
& response from the market, Especially for the 1/18 superior design 4WD cars, which are now sharing aVery well-known reputations in the worldwide market, "Anderson" become a quality
and reliability brand name in the market..
Our missions is continuing to develop the most advanced and unique products for the hobby
enthusiast. Following with these, starting from June, 2007, Anderson will step into a new production line for Brushless Motors, with the quality consistency we always insist, we will sure
to continue Devoted ourselves to create the wonderful RC hobby land for you.